By Bill Kaplan


A political earthquake struck Kansas last week. The New York Times reported: "Republican voters in Kansas rebelled against the policies of (GOP) Gov. Sam Brownback on Tuesday, ousting his fellow conservatives in at least 11 state legislative primary races amid widespread angst about Kansas's financial situation." The issues are familiar to Wisconsinites: tax cuts tilted to the rich -- failing to deliver prosperity or budget balance -- and resultant cuts in spending for schools, higher education and roads. Brownback's economic "model" was rejected as chicanery.
This also holds true for Brownback's strident opposition to Medicaid expansion. The Wichita Eagle editorialized: "Those standing firm against expanding Medicaid in Kansas have their reasons, however politically contrived.... How many jobs will be trimmed and providers hobbled before the governor and his GOP legislative allies are persuaded that Kansas must join the 31 states that have expanded Medicaid...?"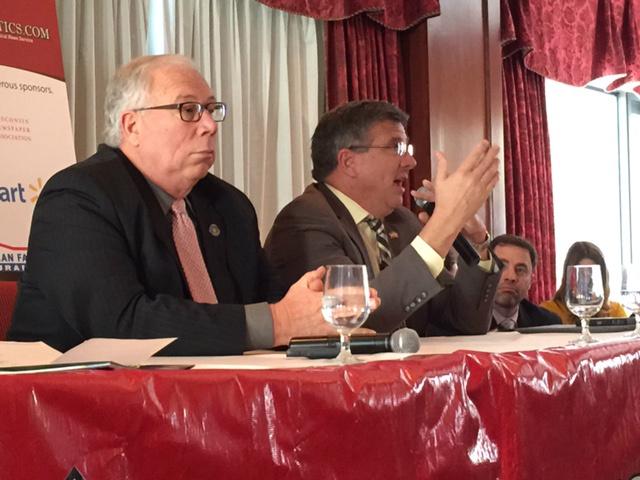 Given the parallel budget situations, and earlier tilt to the hard-right, in both Kansas and Wisconsin, can GOP state Rep. John Nygren and GOP state Sen. Luther Olsen connect the dots between a nearly $1 billion shortfall on roads and a $1 billion windfall if Wisconsin expands Medicaid? Kansas GOP moderates have brought their state back to reality - can Nygren and Olsen do the same in Wisconsin? Nygren wants to fund roads and Olsen wants to face up to budget realities. Medicaid expansion can do both and more.

Gov. Scott Walker, a stubborn ideologue, still has the presidential bug. So playing on the national stage means Wisconsin is in Walker's rear view mirror. Thinking ahead to a future presidential race and hard-line GOP primary voters, Walker maintains his defiance of common sense and math. The nonpartisan state Legislative Fiscal Bureau said expanding Medicaid would save Wisconsin $1 billion through 2020-21 and cover over 80,000 low-income (many working)
Wisconsinites. Moreover, Medicaid expansion would reduce uncompensated hospital care ($234 million in 2014 - WHA), prevent cost-shifting to employers / private insurance plans, help rural hospitals, create jobs and generate budget savings for schools, the UW System and roads. What to do?

It's time for Republicans like Nygren and Olsen to speak out. Walker (38 percent approval) will not be governor forever. Inaction is not a strategy. Wisconsin GOP legislators will be left holding the bag when Walker runs for president again. Responsibility for huge state problems will fall on them like a ton of bricks. GOP moderates in Kansas have offered a way out. Wisconsin Republicans should connect the dots.

-- Kaplan wrote a guest column from Washington, D.C. for the Wisconsin State Journal from 1995 -- 2009.
Do you like this post?