The Walker Administration released misleading numbers this morning purporting to demonstrate that health insurance costs would be much higher in the new health insurance marketplace (or exchange) created by the Affordable Care Act. The information about rates on the individual market in a press release from the Wisconsin Office of the Commissioner of Insurance (OCI) is so vague that it is impossible to draw conclusions about its accuracy.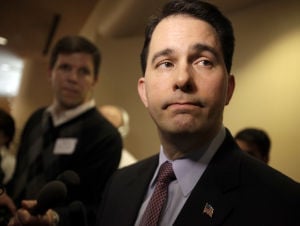 Even if the data is taken at face value, it is clear that OCI leaves out vital factors which will have a major impact on the true sticker price of health insurance.
1.  The rates released by OCI do not include tax credits which will be available to make health insurance affordable, and therefore do not report the true sticker price of insurance coverage purchased on the new marketplaces. It is misleading to only report average rates which do not take into account the generous premium tax credits. A recent report from the Kaiser Family Foundation shows that nearly half of consumers on the new health insurance marketplaces will receive tax credits which will on average a reduce the sticker price of a family plan at the silver level by 32% (or $2,672). The subsidies would reduce the cost of a bronze plan by 77%. (Note: OCI does not say what level of exchange plan is being used in its comparison).
2. OCI's rate comparison does not take into account the quality of plans. An exclusive focus on premium rates does not reflect total consumer cost.  The Affordable Care Act establishes quality standards for insurance plans. While this may increase premiums in some cases where the consumer currently has substandard coverage, higher quality coverage has lower out-of-pocket costs for consumers when they get medical care.  According to Dr. Jonathan Gruber's analysis of the Wisconsin insurance market released by the Walker Administration in 2011, 38% of plans fall below the minimum standards of ACA.
3. The rates released by OCI do not take into account pre-existing conditions and other factors.  Average premiums do not tell the whole story because rates that are low today are a product of a system that discriminates against people with pre-existing conditions and against women. Rates are expected to go down for people with health conditions and for women. In addition, many who are denied coverage or cannot afford discriminatory rates will be able to buy coverage.  The rates for plans offered on the new marketplace take into account the addition of consumers currently facing discrimination, the current rates do not.
In addition, the OCI release does not specify which level of marketplace plan is being used as a point of comparison. It is possible that OCI is averaging in more expensive higher quality plans, as Ohio and Indiana did, which creates a very distorted and misleading comparison.
"It is extremely disappointing that the Walker Administration is trying to deliberately confuse the public about insurance costs at a time when consumers need good information on how to obtain good affordable coverage," said Robert Kraig, Executive Director of Citizen Action of Wisconsin.
Kraig pointed out that some rate fluctuation is a small price to pay for outlawing health insurance discrimination and guaranteeing a lifetime of guaranteed access to health coverage.  "As a values proposition everyone is a winner on the new marketplace because everyone wins in the long term when health insurance discrimination is outlawed. Even younger healthy people who get low rates today will pay higher rates as they age and develop health conditions.  The insurance they may pay more for in the short term is of higher value because it cannot be taken away throughout their lives, no matter what," Kraig concluded.
It should be noted that the individual market currently covers only 3% of Wisconsin health care consumers.
In August Citizen Action of Wisconsin hosted a media call with noted MIT Economist Jonathan Gruber to pre-empt any efforts to mislead the public on rate increases.  A recording of that media call is available here.
Do you like this post?
John Aquino
commented
2014-11-14 23:02:20 -0600
"Citizen Action" partnering with "Voters Are Stupid" Gruber to tell you that Obamacare is great. Tell "Citizen Action" that you are not stupid and Gruber is. The really sad part is that "Citizen Action" is a fraud campaign to screw you the citizens of Wisconsin who Gruber says are stupid.
Craig's Garage
commented
2013-11-13 08:54:48 -0600
Walker refusing to create an exchange and force us onto the federal exchange has driven up WI costs nearly 100% more than our neighbors in MN…
SHAME
Drew Neve
commented
2013-09-05 21:41:56 -0500
The really sad part is that the Walker administration doesn't care enough about people that it would put effort into making health care harder to get for any reason, let alone trying to score pathetic political points.
Tim Mocarski
commented
2013-09-04 10:06:37 -0500
Dell Monte: Typical of someone who doesn't like Obama to leave out some telling facts. Yes, the
ILWU
has disaffiliated its ties. It is still, however, a strong union force working for the betterment of its members. Your cited Obamacare as a reason is misleading. Their problem with the legislation is that it doesn't go far enough. What they want is a universal single payer system.
joan hynes
commented
2013-09-04 09:09:48 -0500
Dell Monte- why would a union be afraid of immigration reform? Btw, I am not knowledgeable enough to debate politics, but I think it would be safe to say the Democrats and Republicans have both lied to the people for many years in order to "win" or justify their arguments.
Dell Monte
commented
2013-09-03 15:02:50 -0500
In what is being reported as a surprise move, the 40,000 members of the International Longshore and Warehouse Union (
ILWU
) announced that they have formally ended their association with the
AFL
-
CIO
, one of the nation's largest private sector unions. The Longshoremen citied Obamacare and immigration reform as two important causes of their disaffiliation.
Dell Monte
commented
2013-09-03 15:00:06 -0500
Let's face it – the democrats lied to us and we are left trying to (once again) cover for them. I'm tired of it.