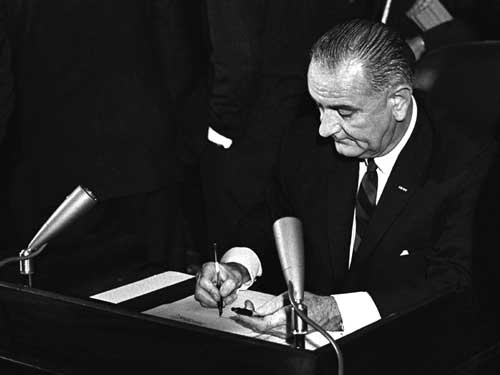 48 years ago today, President Lyndon B. Johnson signed the Voting Rights Act of 1965 in the Capitol Rotunda. Despite a 100 year battle to establish the right to vote, which culminated in the Voting Rights Act of 1965, many Americans continue to face attempts by conservative politicians to narrow access to the ballot box for people of color, senior citizens, low income communities and students. It is outrageous that we should have to defend civil rights and the integrity of voting because a group of legislators want to manipulate election process for their own political ends.
If we stand together, and educate the public about the true motives behind these efforts, we will again establish democratic elections which are free, fair, efficient, and accessible, where every person's vote counts. While we work to defeat these efforts to roll back the clock in Wisconsin, we also need to create a 21sth century voting system that is as open and accessible as possible.
Please join Citizen Action of Wisconsin in our statewide campaign to protect the right to vote and expand access to democracy in Wisconsin. To get involved, (1) sign our Pledge to Vote in 2014 and (2) contact Citizen Action of Wisconsin organizer Anita.Johnson@citizenactionwi.org to volunteer to help our campaign to protect democracy in our state.  
Do you like this post?