by Robert Kraig, executive director

I am blogging from the largest annual convening of state health care reform advocates: the Families USA Health Action Conference 2016. In my first blog from the conference I wrote about Congressman Luis Gutierrez's speech on righting one of the great wrongs in the affordable care act: the exclusion of undocumented immigrants.

Immediately following Gutierrez at the opening plenary of the conference was Cecile Richards, the President of Planned Parenthood Federation of America. Like Gutierrez, Richards brought the house down with her speech.
Cecile is an extremely gifted speaker, one of the best in the entire progressive movement. In addition, I can tell you from personal experience that she is an extremely nice person and a brilliant strategist (I got to work with her briefly in the Spring and Summer of 2004 when she was establishing America Votes in Wisconsin).


One might have expected Richards' speech to dwell on the on-going threat to women's health access. After all, the nation is in the throes of a ceaseless right-wing campaign at the federal and state level to defame and defund Planned Parenthood, one of America's most trusted health care providers. In September Cecile was subjected to a McCarthy-esque grilling by a House Committee. In addition, the Affordable Care Act (ACA) was passed with anti-choice provisions which harm health care access for low income women.

But instead of focusing on the threats, Richards delivered an optimistic speech focused on what has been accomplished over the last 50 years. She said that a woman's "right to choose when and if they have children" is fundamental, and that the establishment and expansion of that right has changed everything in America. Without it, women would not have made the tremendous strides they have made towards full social and economic equality in American society. The right to plan if and when to have children has made it possible for women to make up over half the college students in America, and to make up half the workforce. Women now are the leading breadwinners in 40% of American families. (Richards quipped, imagine how much more women could contribute if we actually had equal pay for equal work).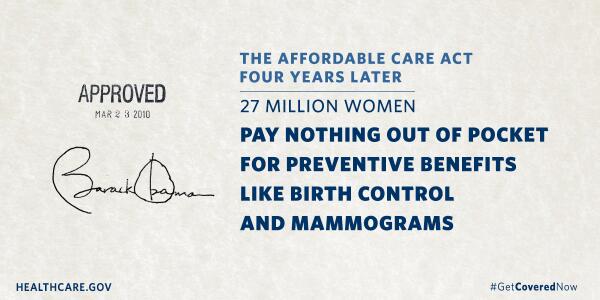 Richards also pointed out that despite the anti-choice provisions, ACA has greatly enhanced women's health. Women can no longer be charged more than men. Women can't be denied coverage because they are pregnant, or have breast cancer. In other words, "being a woman is no longer a pre-existing condition!"  ACA has also expanded access to birth control. Because of the ACA, 55 million women are now eligible for no-cost birth control, saving women $1.4 billion dollars so far.

In our Progress Points Message Blog we have talked about the concept of values-based communication. Cecile Richards' speech at Families USA is a great example of how much more effective emphasizing values and aspirations can be than the progressive penchant for subjecting audiences to fact-saturated descriptions of problems. By focusing on the progress that has been made on women's health, and its connection to the tremendous advance in gender equality that has been made since the 1960s, Richards showed how much we all have  at stake in the health care debate.


If you want to get involved in the fight to protect and expand women's health in Wisconsin, please contact Citizen Action's close partner, Planned Parenthood Advocates of Wisconsin.
Do you like this post?